Slut dato:

2020-09-27
ANIDOX:VR Awards exhibition 2020
-  A part of Viborg Animation Festival (VAF)
See more >
Slut dato:

2020-09-18
Kristian Vodder Svensson
NOW
15.08 - 18.09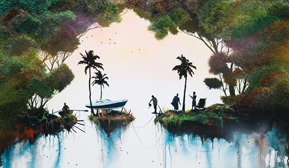 After two years, Kristian Vodder Svensson is back in Gallery NB with a new exhibition.
The title NOW covers several layers, as he, like so many others, is also affected by the Covid-19 problem. More than that, the exhibition is a journey into his personal universe, and thus his statement about where he is artistically at the moment.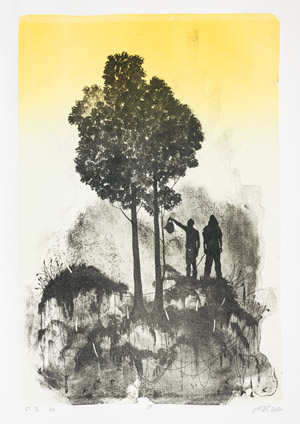 Six handmade original lithographs made in very small editions have been created at Fyns Grafiske Værksted over the summer. Together with his latest paintings, they form the framework for Kristian Vodder Svensson's unique universe.
Kristian Vodder Svensson graduated from the Academy of Fine Arts in 2006. Subsequently, he worked in the spirit of the times with the scenery of the city and the landscape. But in 2014, there were significant changes in his expression, which was partly due to a special opportunity to decorate the corner office of the CEO of Politikkens Hus. Here not only the walls but also the ceiling were adorned with floating islands and birds.
Subsequently, Kristian Vodder Svensson has made several major commissions, such as the Spanish Steps in Sønderborg, the dining room at Bjergsnæs School, the end wall of the concert hall at Fur Bryghus, the Health Center in Haderslev and the Aarhus Business Academy in Viby.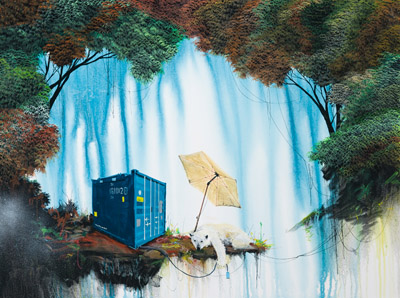 The expression in Kristian Vodder Svensson's art is formally built around the adventurous, but at the same time realistic tales, where in certain cases Avartar - like floating islands are populated by animals and people in communication with each other and the spectators. In other paintings, the surface is filled with stands and trees, which give the impression of almost jungle-like landscapes, in which man is often alone or left in the great outdoors. Paintings that often provide food for thought.
As a spectator, you are drawn to the beautiful and at the same time realistic universe in Kristian Vodder Svensson's art.
The exhibition NOW also shows an artist who knows his craft and knows how to use it artistically.
Opening on Saturday 15 August at 14-16.
The artist participates in the introduction at 14.15.
See more >