Burning Mind is the title of Vilmantas new exhibition
Sunday 10 October at 14 Mayor Ulrik Wilbek opened Gallery NB's extensive exhibition with Vilmantas Marcinkevicius.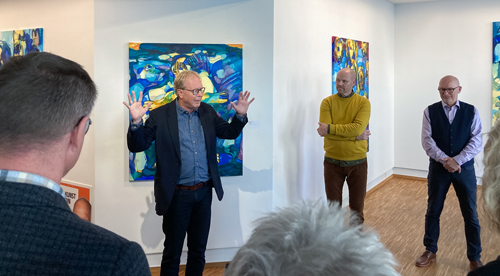 Ulrik Wilbek, Vilmantas Marcinkevicius and Thorkild NB
The title is Burning Mind and refers to what happens when people for a time become socially segregated, as it happened during Covid-19.
At first glance it seems negative, but for Vilmantas it was also positive. The brain almost burned on by virtue of a changed lifestyle and the need to make space for new creative thoughts.
A number of new and in several respects different paintings have emerged from this. In addition, he has created several unique ceramic jars and dishes, which have also found their way to the exhibition.
3D Tour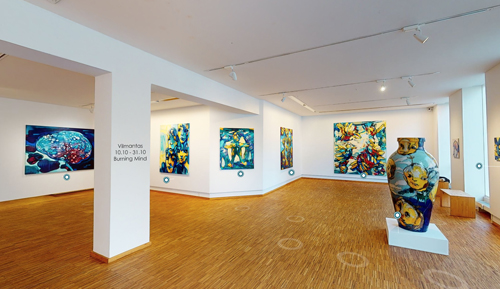 Take the big 3D virtual tour inside the exhibition
About Vilmantas: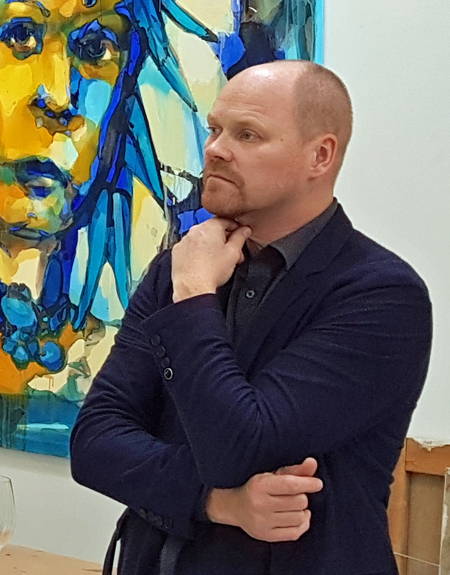 Click at the photo for link to the artworks
Vilmantas Marcinkevicius b. 1969 completed his education at the Academy of Fine Arts in Vilnius in 1995, and he exhibited for the first time in Gallery NB in ​​1998. Subsequently, Vilmantas and Gallery NB have worked closely together.
Vilmantas can be briefly described as a large and distinctive artistic personality with a unique imagery and painting technique.
His major exhibitions around the world and of course in Lithuania and Denmark have created a great deal of attention. Therefore, over the last 20 years, he has developed and consolidated his position as one of Lithuania's most famous and recognized contemporary artists.
His empathic abilities and painting techniques have also made him attractive as a portrait painter. Among the most famous portraits were the portraits of HRH Prince Henrik, which he made in the spring of 2014.
Most of his art is in private collections, but over the years he has also made several striking and extensive decorations for public and private companies. Not least the commission of Hedeager Church in Herning is remarkable, as it describes the events of Maundy Thursday through paintings, glass mosaics in the windows and glass paintings built into the pulpit with LED backlighting.
Vilmantas works primarily with painting on canvas. But in recent years he has added pictorial paintings on large ceramic jars, ceramic dishes and glassworks.
Due to a long period of limitations in the exhibition possibilities, we have chosen that the exhibition Burning Mind this time will fill the entire gallery. The extensive exhibition thus presents Vilmantas latest paintings, ceramic jars, ceramic plates and painted glass plates.
This exhibition is at the same time a manifestation of our close ties, which consist of equal parts respectful recognition, professional cooperation and close friendship.
Facts:
Time: 10.10 - 31.10 2021
Opening: October 10 at 14-16. Mayor Ulrik Wilbek opens together with Vilmantas exhibition at 14.15.
Contents: latest paintings, painted ceramic jars and plates.
Links:
3D virtual tour: Burning Mind
Artworks: Vilmantas Marcinkevicius
Book: Vilmantas - Burning Mind